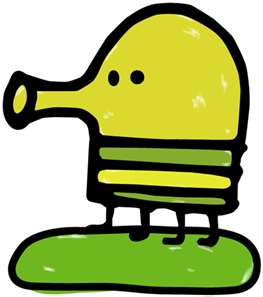 Doodle the Doodler is the main character of Doodle Jump. He is yellow and green in color. He has the ability to shoot pellets out of his nose.
however, in other "zones" he can be different:
halloween(2):
doodler: a ghost
pellets: normal
Ice blizzard:
doodler: an eskimo
pellets: snowballs
christmas:
doodler: santa!
pellets: snowballs
Jungle:
doodler: explorer
pellets: rocks
ocean:
doodler: deep sea diver
pellets: bubbles
football:
doodler: footballer
pellets: footballs
space:
doodler: astronaut
pellets: lasers!
halloween:
doodler: frankenstein
pellets: normal
easter:
doodler: easter bunny
pellets: easter eggs
ninja:
doodler: ninja, sumo, shadow or double jumper
pellets: shurkiens (ninja)
Ad blocker interference detected!
Wikia is a free-to-use site that makes money from advertising. We have a modified experience for viewers using ad blockers

Wikia is not accessible if you've made further modifications. Remove the custom ad blocker rule(s) and the page will load as expected.